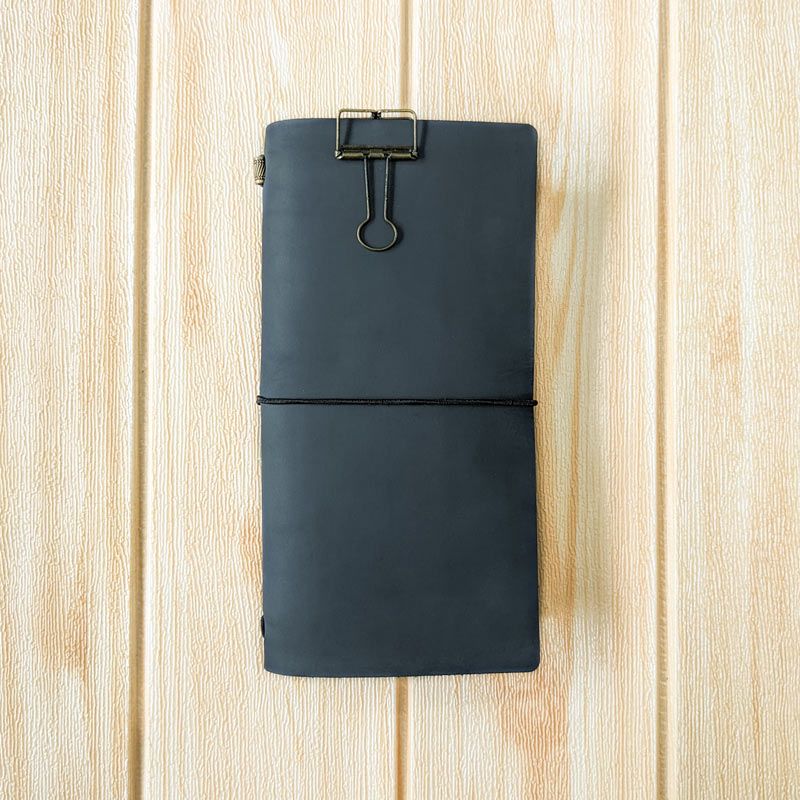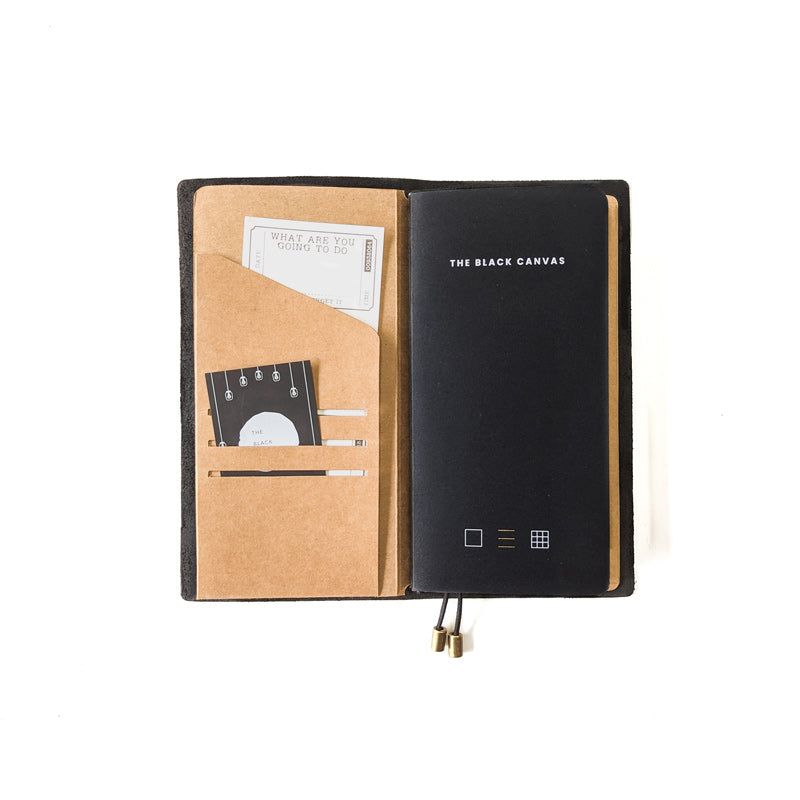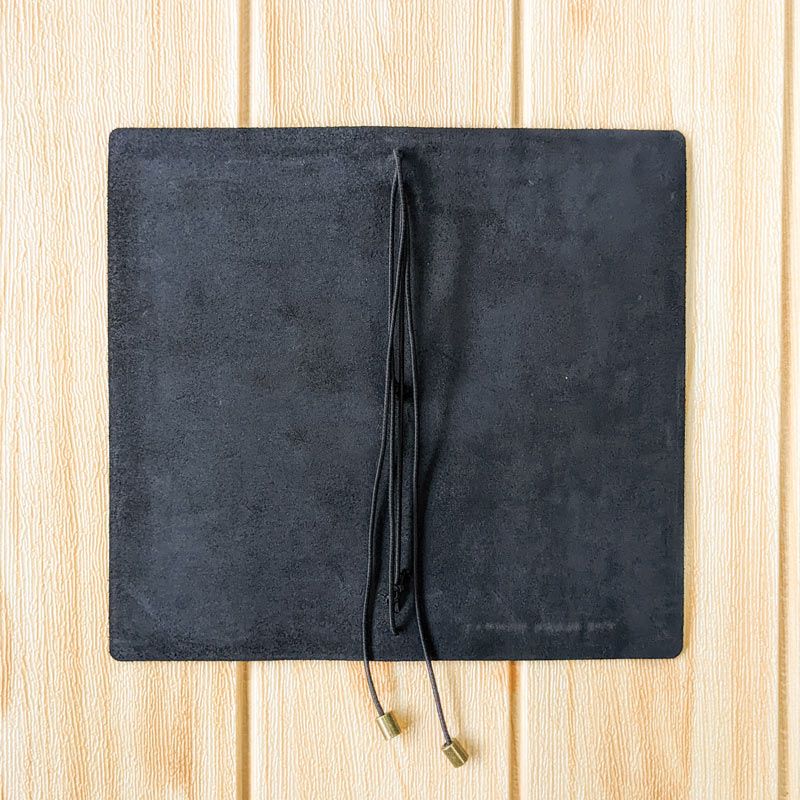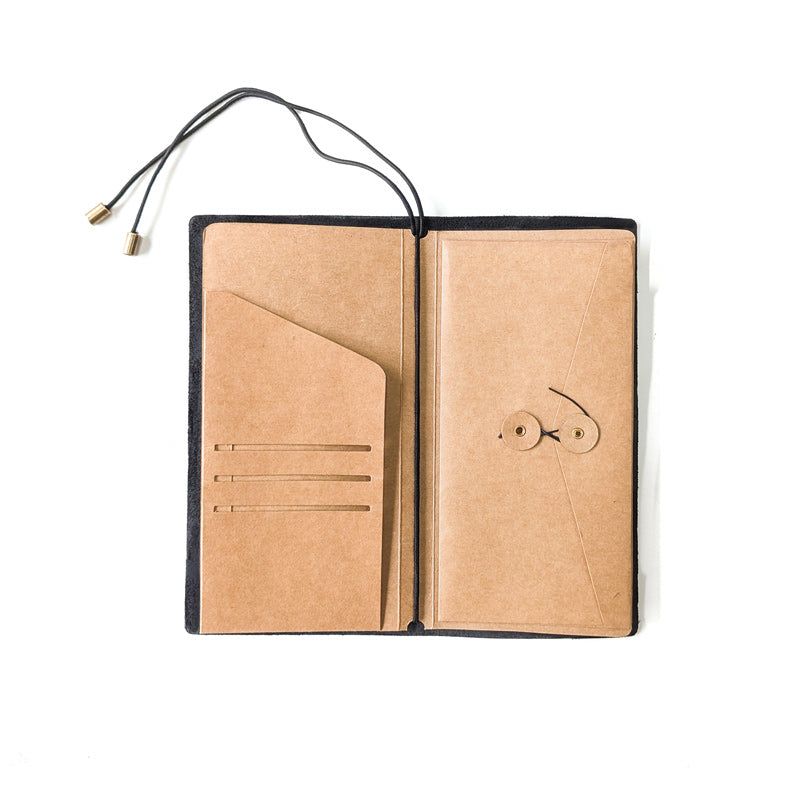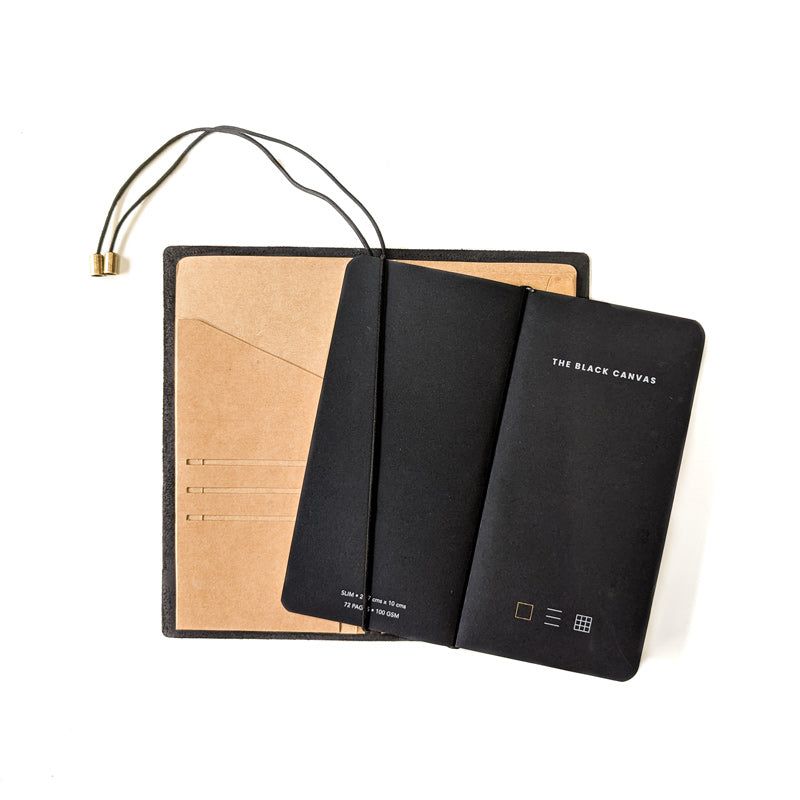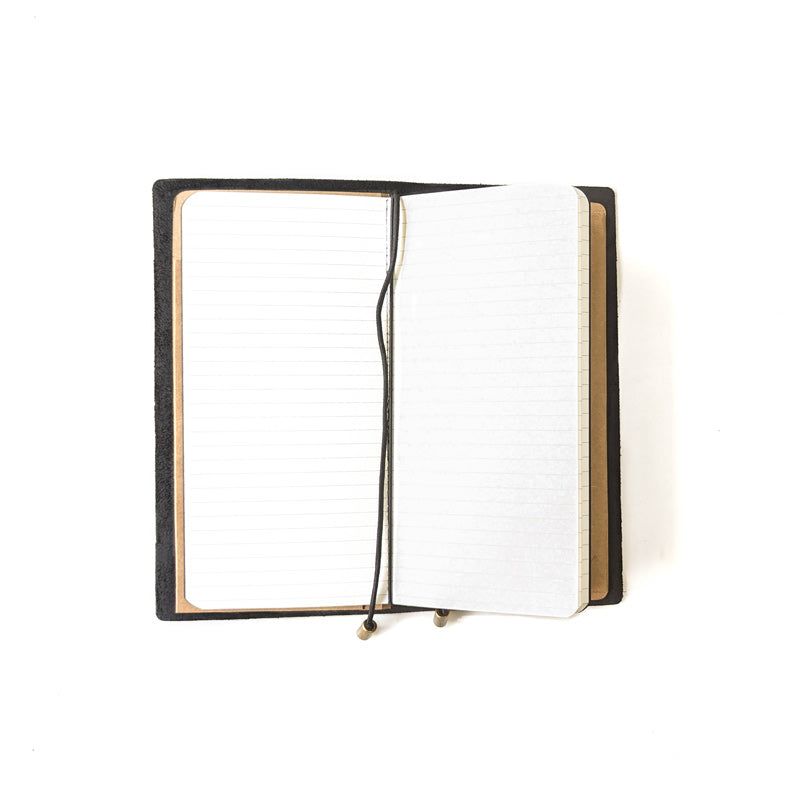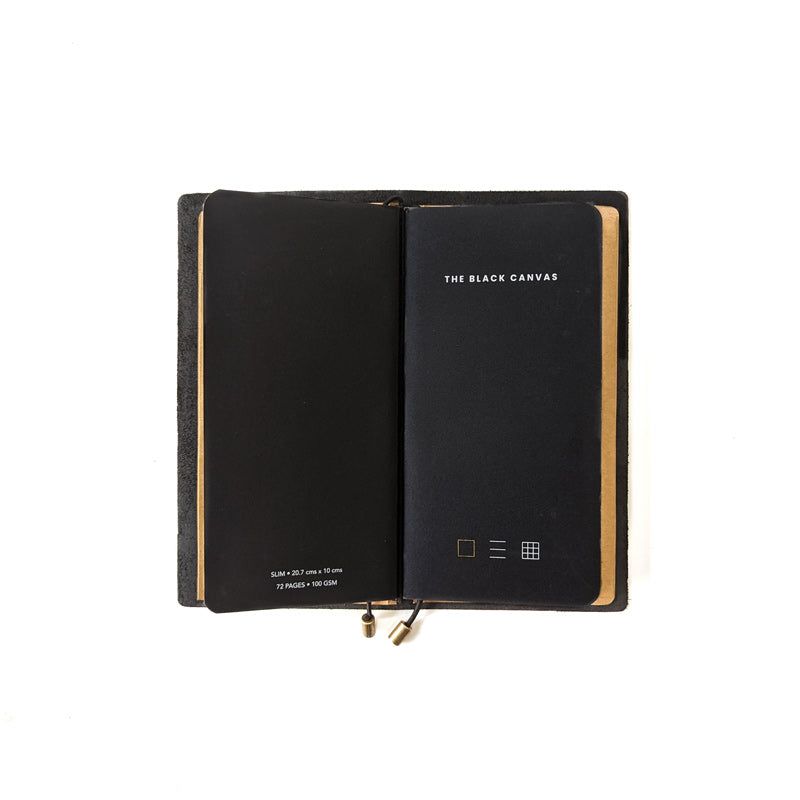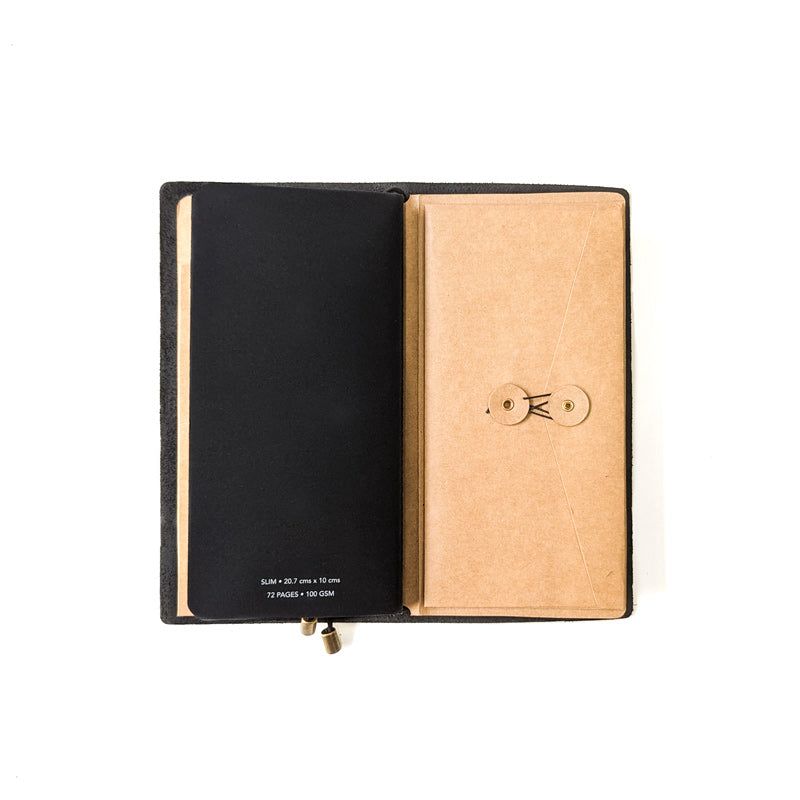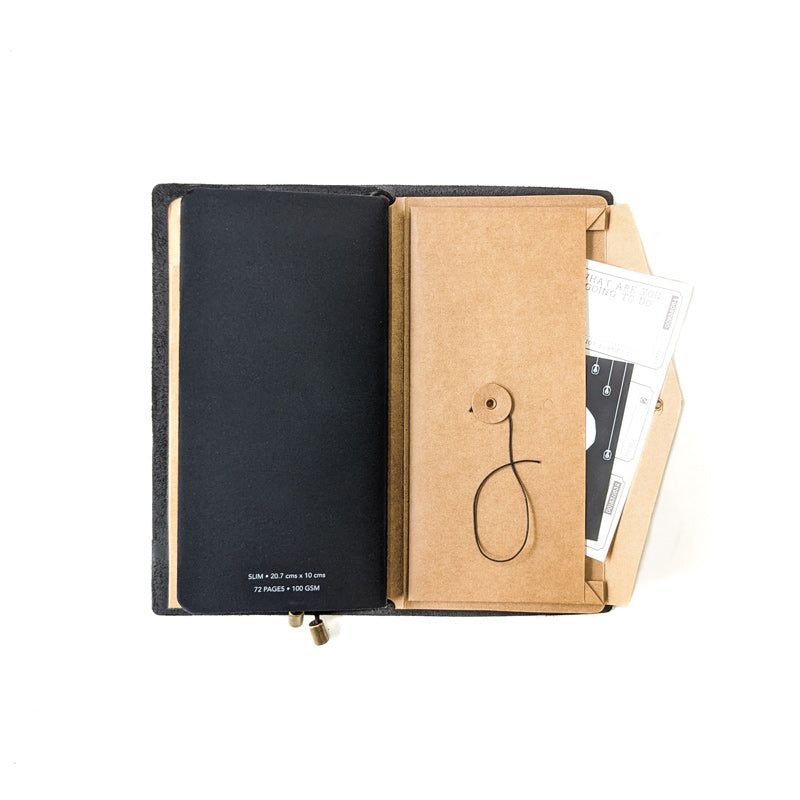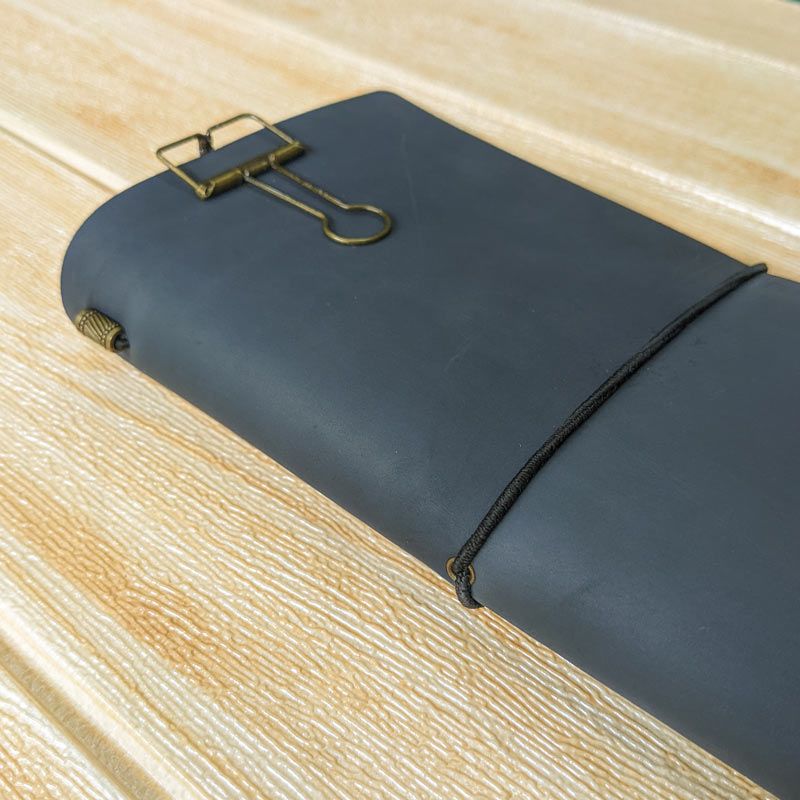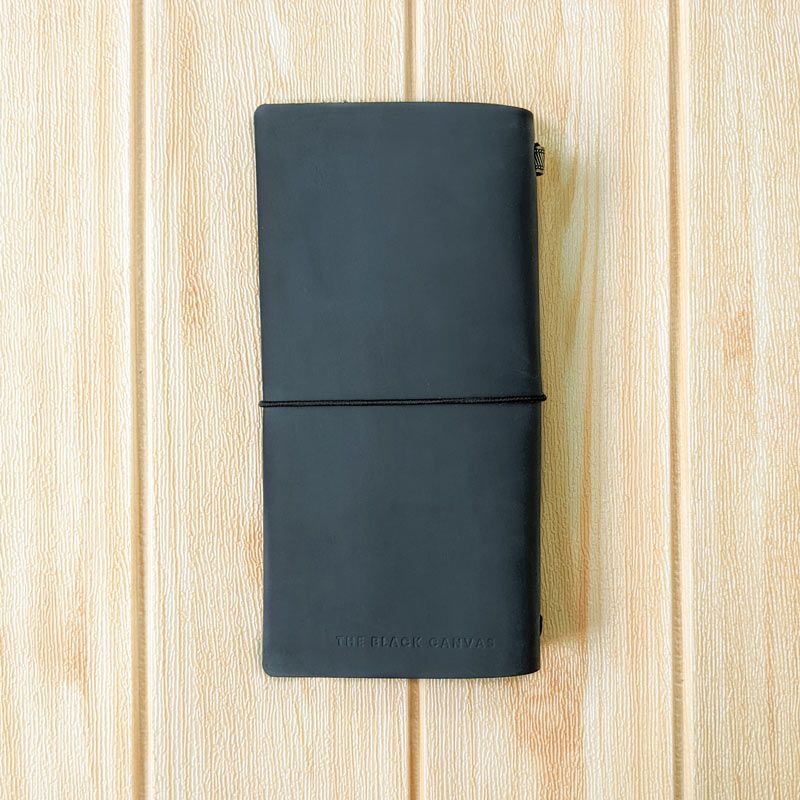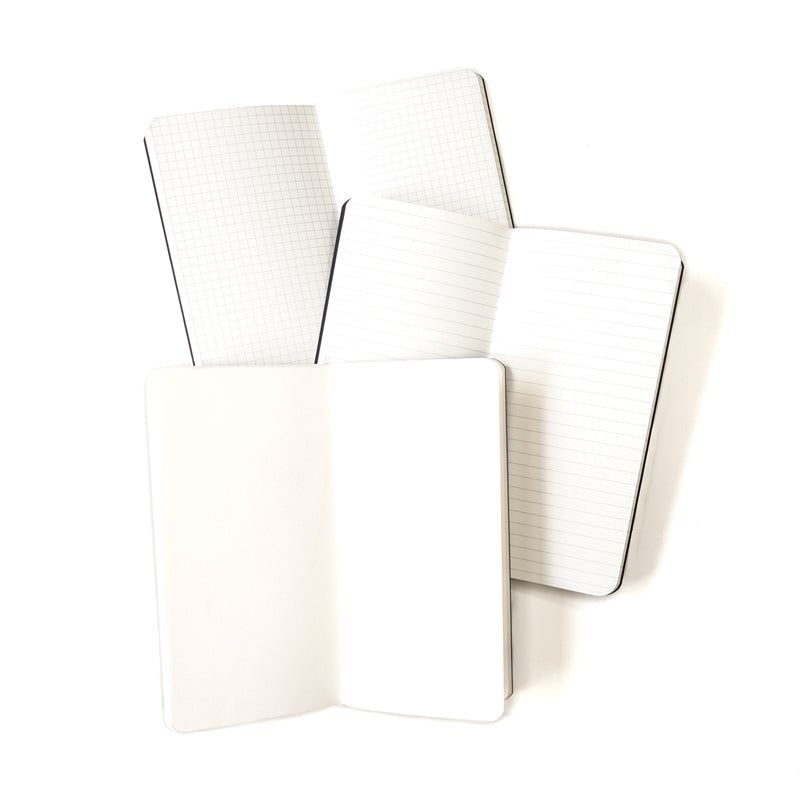 Dusty Blue TBC Travellers Journal | Slim
ABOUT THE PRODUCT
Dusty Blue TBC Travellers Journals is one for the classics!

Crafted in thick navy blue with a smooth, matte finish, the refillable single-fold leather cover comes with black elastic bands attached on the inside to hold a notebook(s), to keep the journal closed and as bookmarks.

You can choose to buy the TBC Travellers Journal as a standalone cover or with accessories like Kraft Pocket Folder, binder clip, and 2 notebooks included! Bonus: It all comes wrapped in a cloth drawstring bag that you can use to keep the journal safe and is perfect for gifting!

Get complimentary personalisation on the journal with your name or initials, which will be engraved on a leather tag in the centre elastic band. If you do not want to opt for personalisation, just leave the name box blank.

About the Notebooks:

The Black TBC Notebooks are slim-sized featuring 72 pages, 100 GSM white eco-friendly paper, and rounded corners. The cover is crafted in black paper and has black stitching on the spine. The Notebooks are saddle stitched at the spine which ensures they lay open flat.

Shop for notebook refills here.
SHOP SLIM NOTEBOOK REFILLS
MORE DETAILS
ABOUT THE LEATHER
Flexibility: Medium with some structure
Finish: Smooth, matte finish. Has a slight nubuck feel to it.
Thickness: 1.7 mm
Quality: Full grain corrected leather.
Care Level: Low - Medium. Regular conditioning to maintain the suppleness. Will develop a natural patina gradually. Due to the inherent nature of this type of leather, it may have or develop marks and scratches with regular use which can be kept in check by using a leather conditioner regularly.
DIMENSIONS
Leather cover: 4.5" x 9" (when closed)
Notebooks: 4" x 8.5"
PACKAGE INCLUDES...
Leather Cover Only:
Outer leather cover with attached elastic bands & bookmarks x 1
Cloth Drawstring Bag x 1

Leather Cover + Kraft Pocket Folder:
Outer leather cover with attached elastic bands & bookmarks x 1
Pocket Folder x 1
Cloth Drawstring Bag x 1

Full Bundle:
Leather Cover with attached elastic bands x 1
Kraft Pocket Folder x 1
Notebooks x 2
Elastic Connector Band x 1
Binder Clip x 1
Cloth Drawstring Bag x 1

**Leather Cover Only includes only the outer leather cover with the attached elastic bands. No other accessories will be included.**
SHIPPING
All orders are dispatched within 1-2 business days. Personalised & Made on Order items are dispatched in 3-5 business days unless stated otherwise.
Delivery time to most domestic locations is 4-5 business days.
For international shipments, delivery time is 15-20 business days approx. Any customs duty levied on international shipments will be payable by the customer.

Returns will be accepted under the following conditions only:
1. Item was defective
2. Wrong item was delivered.
Read more about our Shipping & Returns policies here.