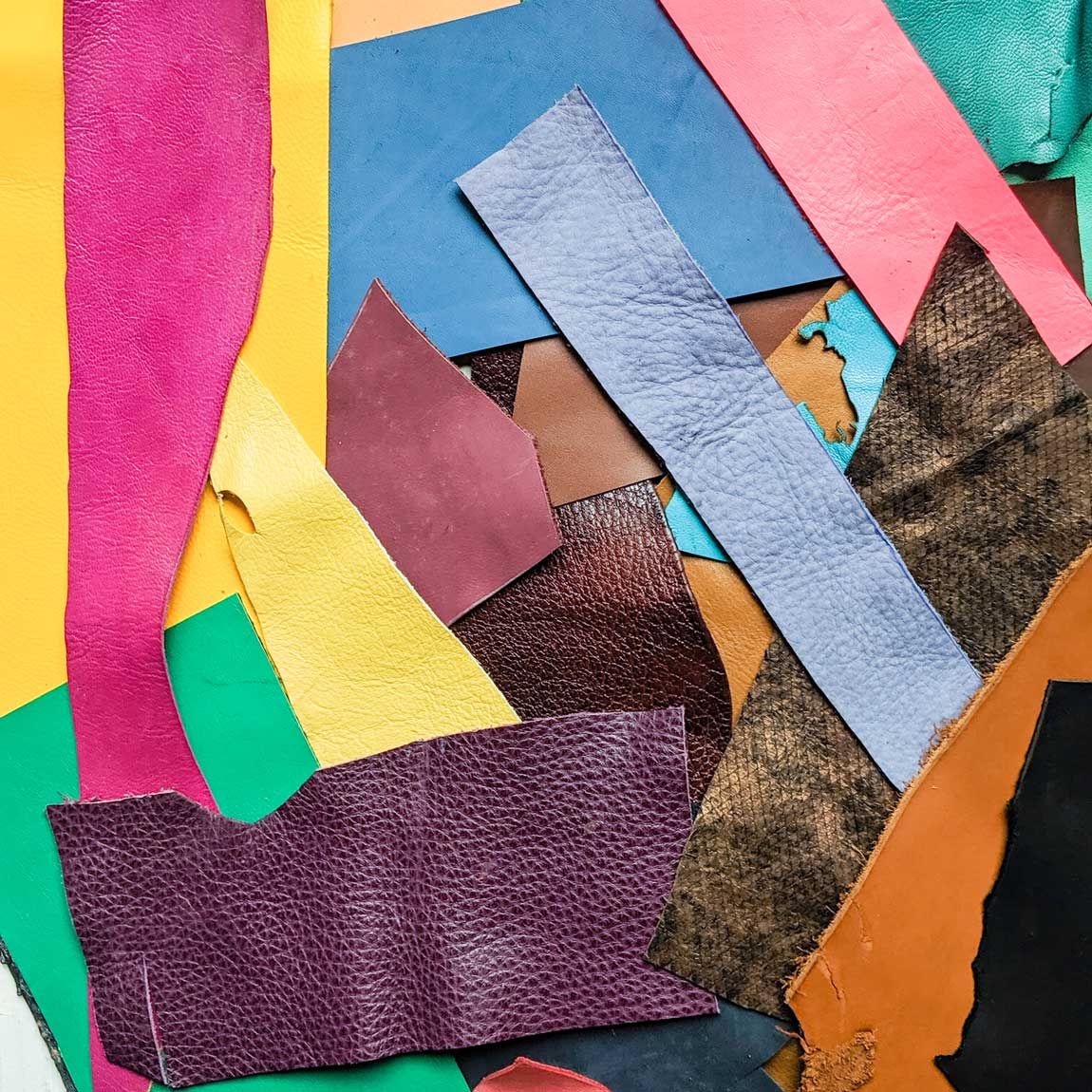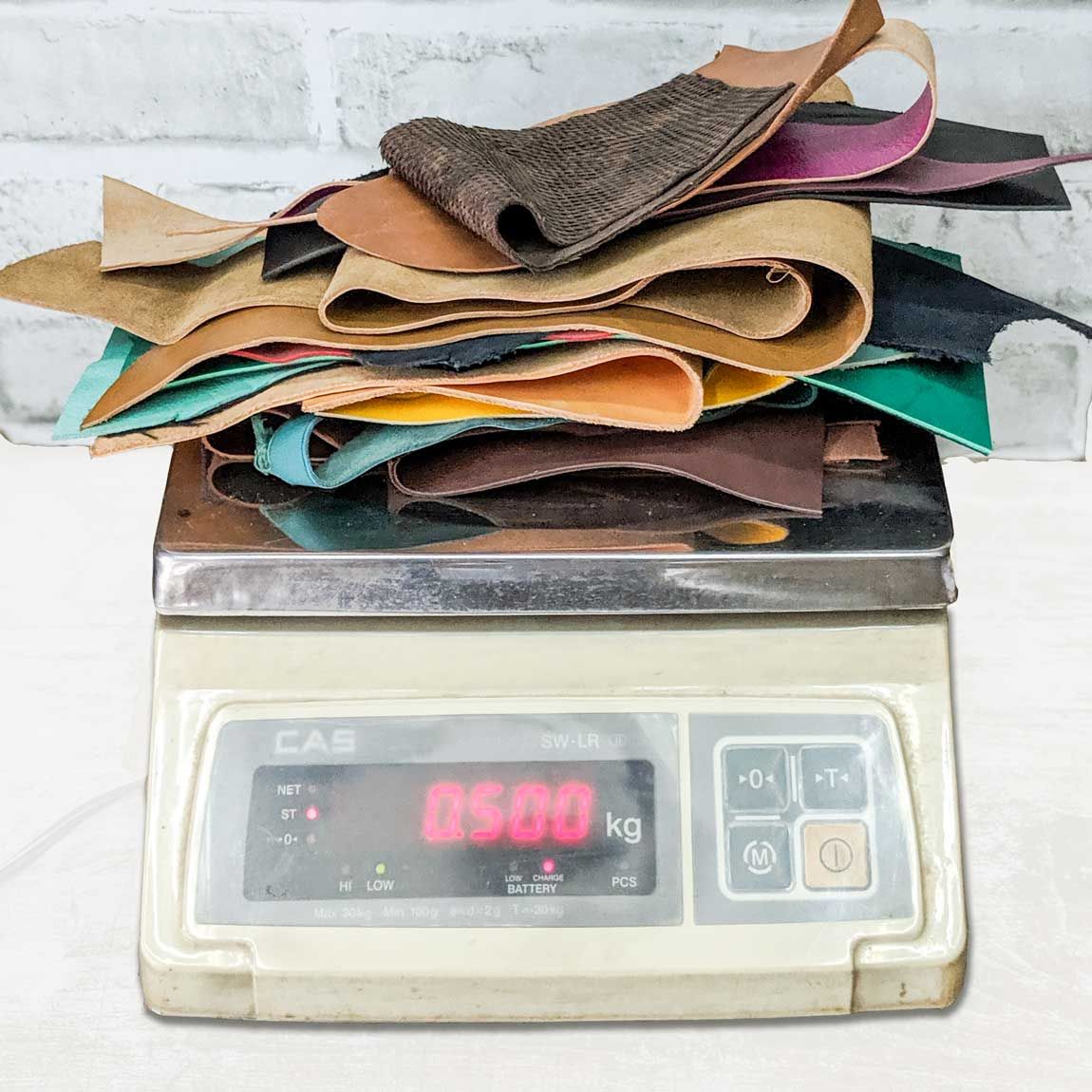 DIY Leather Trims - Assorted
ABOUT THE PRODUCT
**This product is not eligible for returns, refunds or exchanges of any kind. Final sale only.**

As part of our initiative to reduce leather waste and re-use it wherever possible, we have decided to offer some of our leather trimmings and scraps to you to use in your DIY projects.

You can expect to receive an assorted collection of leathers & colours in various thicknesses, usually 0.5 mm - 3 mm and a mix of chrome tanned, veg tan, nubuck, suede, cow Nappa, etc. The bag may contain some large scraps, between a square foot or two, to some medium and smaller scraps under a square foot.

The leather bits are great for making coasters, bookmarks, wallets, patchwork handbags or mats and anything else you can imagine! The possibilities are endless!

Note: Please remember that this is scrap leather and sizes & colours will vary. We can only include what we have. Special requests for particular colours and cuts cannot be guaranteed.
MORE DETAILS
ABOUT THE LEATHER
Flexibility: Varied. Range of leathers including very soft, soft, medium structured, very structured.
Finish: Varied. Mix of pebbled grain, natural finish, smooth finish, etc
Thickness: 0.5 mm - 3 mm
Quality: Varied. Mix of top grain, full grain, suede, nubucks, vegetable tanned, chrome tanned, etc.
Care Level: Low - Medium depending on the leathers. Regular conditioning to maintain suppleness.
PACKAGE INCLUDES...
Half kg bag will contain about 15-20 pieces on average.
1 kg bag will contain 30-40 pieces on average.
2 kg bag will contain 60-80 pieces on average.
(This is an approximate number and the number of pieces may vary if larger or heavier pieces are included.)


SHIPPING
All orders are dispatched within 1-2 business days. Personalised & Made on Order items are dispatched in 3-5 business days unless stated otherwise.
Delivery time to most domestic locations is 4-5 business days.
For international shipments, delivery time is 15-20 business days approx. Any customs duty levied on international shipments will be payable by the customer.

Returns will be accepted under the following conditions only:
1. Item was defective
2. Wrong item was delivered.
Read more about our Shipping & Returns policies here.
Great quality leather, should have been bigger usbale pieces.
First of all, swift shipping and delivery of product. As mentioned, 500 gms of assorted color genuine leather scrap peices were delivered.
While they are good quality they are not big enough to make stuff out of other than cable ties and bookmarks. Suggestion is tho have a bit bigger pieces sent and also list leather tools as products as I found myself having to order from other leather product manufacturers and Amazon.
Leather Stitch Kit at reasonable price.
Snap fastener button - 50pieces, 100 peices and so on,
Snap fastener pliers.
Glue and wax to make a well polished/finidhed good.
2 sq ft leather sheets.
Nonetheless, blackcanvas delivered well with product. But your competitors provide wider solutions and/or products. Would love to see blackcanvas become more succesful.
Did not receive many colours
The quality of the scrap was good but I did not receive the materials in different colours. The heaviest scrap occupied half the space.
Pure leather products trims
Ordered 1kg I received mostly all colors strep but brown color strep not received
This is a blessing during the lockdown :)
Ordered 1kg packet, got delivered in 4-5 days. It's totally worth it for newbies. You get hands on various types of leather stuff. Perfect for newbies I would say, anyone looking to start out with leather don't know what to buy. Go for this package :)
Great products & customer service!
I was so glad to buy the leather scraps! It was really nice to feel the different types of leather. Lol
Also, I really appreciate that instead of throwing those precious pieces away, they are available for us to make some fun DIY projects!